13 Galentine's Day Ideas To Celebrate Friendships
Updated: Mar 24
Thanks to Leslie Knope, (where are my Parks and Recs fans at?) we have been blessed with a beautiful holiday known as Galentine's Day. In case you've been living under a rock, Galentine's Day is the day before Valentine's Day (February 13th) where instead of worrying about a hot date night, you celebrate the day with your friends.
Galentine's Day is a day that you can plan on lots of laughs, bonding with your closest girls and enjoying a night without worrying about guys. These Galentine's Day ideas are perfect for February 13th or any other girl's night!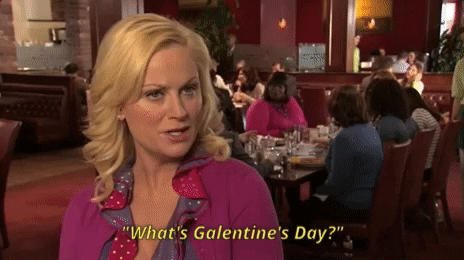 1.) Plan a night in with a Bachelor recap or a list of everyone's favorite Disney movies. Don't forget the cheese board!
2.) Take a night out on the town with your best friends. Get dressed up, order fancy drinks, and heck! Sing until your heart's content at a karaoke bar.
3.) Take a wine and painting class. These classes are popping up everywhere. Enjoy your favorite wine while painting a masterpiece you'll want to hang up at home. It's fun to see how everyone has their own painting styles.
4.) Volunteer! Take the spirit of love to an animal shelter and play with the puppies or kitties.
5.) On that same note, create some baskets filled with blankets, food, feminine products and more and deliver them to our local homeless shelter. You can even make the basket Valentine's Day themed to stay in the mood! Remember it's all about showing the love!
6.) Throw a Galentine's themed party. Think fun balloons, heart decorations, pink and red sprinkled cookies, and more! No boys allowed ;)
7.) Network! This year a group of girlfriends and I are meeting up for a community event. It's all about meeting other women and creating new friendships. I'm honestly super excited and if there are any other Colorado girls who want to join us, the event is free and you can sign up here. It's free!!
8.) Host a game night! Board games are a fun way to be competitive but also enjoy yourself. Some must-play games include Cards Against Humanity, What Do You Meme, and Encore.
9.) Hit the spa or create your own spa day at home! Who doesn't love treating themselves?
10.) Treat yourself to brunch. This year the holiday lands on a Thursday so for most of us, we don't get to be with our friends all day. A friendly brunch can help you guys catch up and enjoy some time out of the office for a bit!
11.) Host a Bake-Off! Who can make the BEST sugar cookies with pink frosting? Or who's brownies are the most chocolatey? Your stomach may get overwhelmed but your sweet tooth will thank you.
12.) Play Secret Cupid - The Valentine's version of Secret Santa. I personally love it when there's a low price point and people get creative with their presents. What are you getting your best friend?
13.) Have a night without cellphones. Take photos on a film or a polaroid camera! That way everyone can enjoy each other's company but you still have cute documentation to put on Instagram the next day!
Galentine's Day is a day to enjoy being around all of your girlfriends. It's not just about who can post the cutest photos on social media. So pick some fun activities to do with your friends and enjoy the day (or night) away! I'm looking forward to seeing how everyone will be celebrating this year!
~~~~~~~~
Did I miss any super fun Galentine's Day activities? Let me know in the comments below or shoot me an email at jen.m.rew@gmail.com and I will make sure to add it to the list! How are you and your girls going to spend the holiday?! I'd love to hear!
#GalentinesDayIdeas #GalentinesDay #HappyGalentinesDay #GirlNightIdeas #GirlsNight #HangoutWithYourGirlfriends #ValentinesDay